Navigating a restaurant's menu can be a challenging task for individuals adhering to a gluten-free diet. However, Arby's, a renowned name in the fast-food industry, has made efforts to accommodate these dietary needs. Offering a variety of gluten-free options, Arby's ensures that customers can enjoy fast food without compromising their health or dietary restrictions.
This article aims to provide an extensive look at Arby's gluten-free menu, demystifying the choices and giving gluten-intolerant and celiac disease individuals the confidence to dine at Arby's worry-free.
Arby 101
Arby's, an American fast-food sandwich restaurant chain, was first established in Boardman, Ohio, in 1964 by Leroy and Forrest Raffel. The Raffel brothers were bent on creating a fast food franchise that strayed from the conventional burger-based model. They chose to focus on freshly sliced roast beef sandwiches, which, combined with their signature sauces, made Arby's a standout in the fast food industry.
Gluten, a mixture of proteins found in wheat and related grains, is a common ingredient in many foods. However, for individuals with celiac disease or non-celiac gluten sensitivity, consumption of gluten can lead to a range of health issues, from bloating and digestive discomfort to more serious complications such as damage to the small intestine. This necessitates a gluten-free diet – a diet excluding the protein gluten. For these individuals, navigating fast food menus can be challenging, and that's where our guide to Arby's Gluten-Free Menu comes in handy.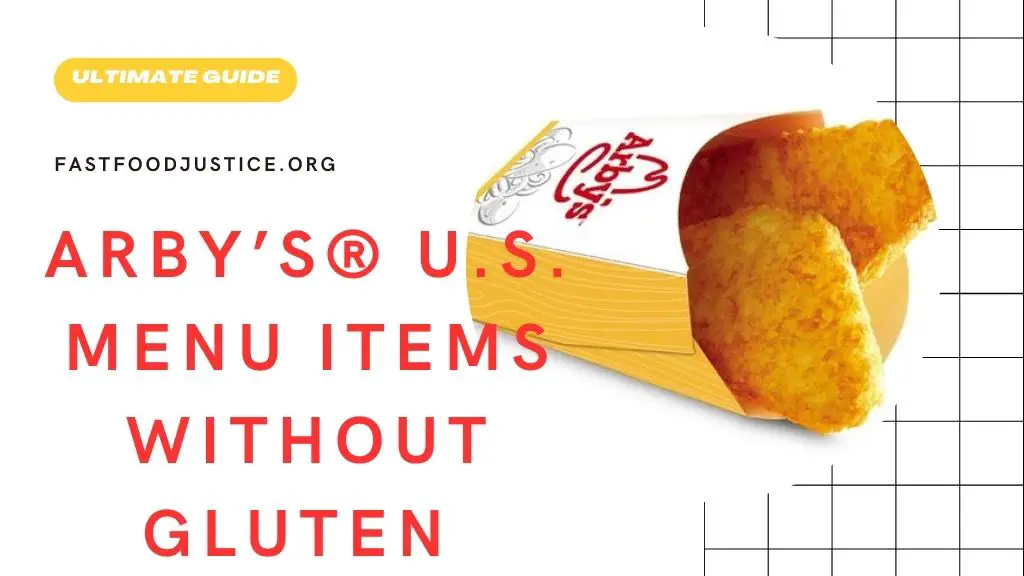 Understanding Gluten-Free Diets
Gluten-free diets are essential for people diagnosed with celiac disease or gluten intolerance. Celiac disease is an autoimmune condition where the ingestion of gluten leads to damage in the small intestine. It affects approximately 1% of the population. Symptoms can range from minor digestive discomfort to severe nutritional deficiencies due to malabsorption.
Gluten intolerance, also known as non-celiac gluten sensitivity, shares some symptoms with celiac disease but differs as the intestine is not damaged. Symptoms include bloating, diarrhea, and abdominal pain.
Adhering to a gluten-free diet is currently the only effective treatment for these conditions. Given the prevalence of gluten in many popular food items, finding gluten-free alternatives can be challenging, particularly in fast-food restaurants. This is why a comprehensive guide to gluten-free options, like the one provided for Arby's menu, is crucial. It not only provides safe food choices for those on a gluten-free diet but also brings awareness to the food industry about the need for more gluten-free alternatives.
Exploring Arby's Gluten-Free Menu
When it comes to fast food, Arby's offers a surprisingly inclusive menu for those maintaining a gluten-free diet. Delve into an array of gluten-free items that don't compromise on flavor or satisfaction.
Condiments
Let's start with the condiments. Arby's Sauce®, a tangy tomato-based sauce with a sweet kick, is a delightful gluten-free option that can complement any sandwich. Similarly, the Horsey Sauce® packs a punch with its creamy and sharp horseradish flavors.
The Cheddar Cheese Sauce and Mild Cheddar Cheese Slice are also gluten-free, offering a cheesy delight to your meal. The Dijon Honey Mustard Sandwich Sauce, with its sweet and tangy notes, can elevate any sandwich or roast beef.
Mayonnaise
Enjoy the creaminess of Mayonnaise, the tanginess of Sauerkraut, and the indulgent flavors of Parmesan Peppercorn Ranch Sauce, Roasted Garlic Aioli, and Thousand Island Spread – all without worrying about gluten.
Lastly, for those who enjoy a bit of heat, the Spicy Brown Honey Mustard Sauce, Spicy Buffalo Sauce, and Spicy Three Pepper® Sauce are excellent gluten-free options.
Although the Swiss Cheese (Natural Slice) and Swiss Cheese (Processed Slice) are not gluten-free, we are confident that Arby's offers enough variety to cater to your taste buds.
Note: Always double-check with your local Arby's on the gluten content of specific items as ingredients and formulations can change.
Shakes
Moving on to the shakes, Arby's offers gluten-free options such as Jamocha Shake, Chocolate Shake, and Vanilla Shake. Enjoy a delicious treat without worrying about any potential issues.
In the meat section of the menu, there are plenty of gluten-free options available. Corned Beef, Bacon, Roast Beef, Roast Turkey, and Smoked Brisket are all gluten-free choices to indulge in. You can also enjoy the Curly Fries without worrying about gluten content.
Snacks
For sides and snacks, Tree Top® Applesauce is an excellent gluten-free choice. Although Arby's does not currently have a dedicated section for gluten-free items on their menu, you can still find plenty of delicious options to satisfy your cravings.
Drinks
When it comes to drinks, Arby's offers a variety of gluten-free options. Market Fresh™ Classic Lemonade, Market Fresh™ Peach Lemonade, Market Fresh™ Strawberry Lemonade, Brewed Iced Tea, Honest® Apple Juice, Coffee, Coca-Cola®, Diet Coke®, Barq's®, Coca-Cola Zero Sugar®, Fanta® Orange, Hi-C® Flashin' Fruit Punch®, Mello Yello®, Minute Maid Light Lemonade®, POWERADE® Mountain Berry Blast®, Sprite®, Dr Pepper®, Diet Dr Pepper®, Shamrock Farms® Lowfat White Milk, Shamrock Farms® Lowfat Chocolate Milk, and Sweet Tea are all gluten-free drinks to enjoy.
Breakfast
And don't forget about breakfast! Arby's features a range of gluten-free breakfast items, including American Cheese, Cage Free Egg Patty, Orange Juice, Sausage Patty, and Pit-Smoked Ham*. Start the day off with a delicious meal that is both safe and satisfying.
Arby's offers an impressive array of gluten-free options for those looking to enjoy some fast food. With a variety of condiments, meats, sides, and drinks available without the worry of gluten content, Arby's is an excellent option for those with dietary restrictions.
arbys-gluten-free-menu-2023

Notification about Arby's Gluten Free Menu
As a note of importance, Arby's caters to the dietary needs and preferences of its customers by offering a variety of gluten-free options. Despite operating in an industry where gluten-rich products are commonplace, Arby's has made concerted efforts to accommodate those with gluten sensitivities or celiac disease.
However, it's crucial to bear in mind that while these items are free of gluten in their individual components, cross-contamination may occur during preparation. Thus, those with severe gluten intolerance should exercise caution. As always, availability of menu items can vary by location and season. This information is accurate as of January 2023.
To find the most up-to-date gluten-free options, customers can visit Arby's website or contact their local restaurant to inquire. Moreover, the company offers an online allergen guide for further clarity on ingredients and allergens in each menu item. This comprehensive resource also includes Arby's latest allergen policy and further information regarding ingredients of concern.
Overall, Arby's strives to provide delicious and safe dining options for everyone. They are committed to ensuring a safe and enjoyable experience for all of their customers – regardless of dietary preferences or allergies. For more information about the company's gluten-free menu items, please visit their website or contact a nearby location.
In addition, Arby's is proud to provide nutritional information and other transparency initiatives that allow customers to make informed decisions about their meals. They are committed to creating options for those with special dietary needs, and they also work hard to maintain their high standards for food safety.
Arby's offers numerous allergen-free and gluten-free items on their menu, so be sure to check out their website or contact a nearby restaurant for the latest updates. With Arby's, there is something on the menu that will satisfy everyone's dietary preferences!
Choose Arby's Gluten Free
Navigating Arby's menu for gluten-free options can be smooth with a few tips and tricks. It's essential to note that while Arby's doesn't have a dedicated gluten-free menu, they do offer items that are naturally free from gluten. Consider options like the Farmhouse Salad (sans croutons) or the Roast Turkey & Swiss wrap (without the wrap).
Sides like their Cheddar Cheese Sauce and Tangy Barbeque Sauce are also gluten-free. However, cross-contamination is a possibility in the kitchen, so it's crucial for those with celiac disease or extreme sensitivities to exercise caution.
Always communicate with the staff about your dietary needs to ensure a safe and enjoyable meal.
Conclusion
Arby's offers a modest but appealing array of gluten-free options, ensuring those with dietary restrictions can still enjoy their meals. From their succulent roast beef to their crisp, fresh salads, they cater effectively to the gluten-free community.
However, vigilance is key as cross-contamination risks exist. Always communicate your dietary needs to the staff to ensure a safe, enjoyable dining experience at Arby's.