Eating speed is more than just a personal habit, it can also be a significant factor in our overall health and well-being. From a biological perspective to social conditioning, various elements come into play when we discuss why some people tend to eat faster than others.
In this blog post, we will delve into the underlying reasons that might explain why you find yourself finishing meals quicker than most. We will also explore the potential effects of this behavior on your health and provide some practical tips to help manage your eating pace better.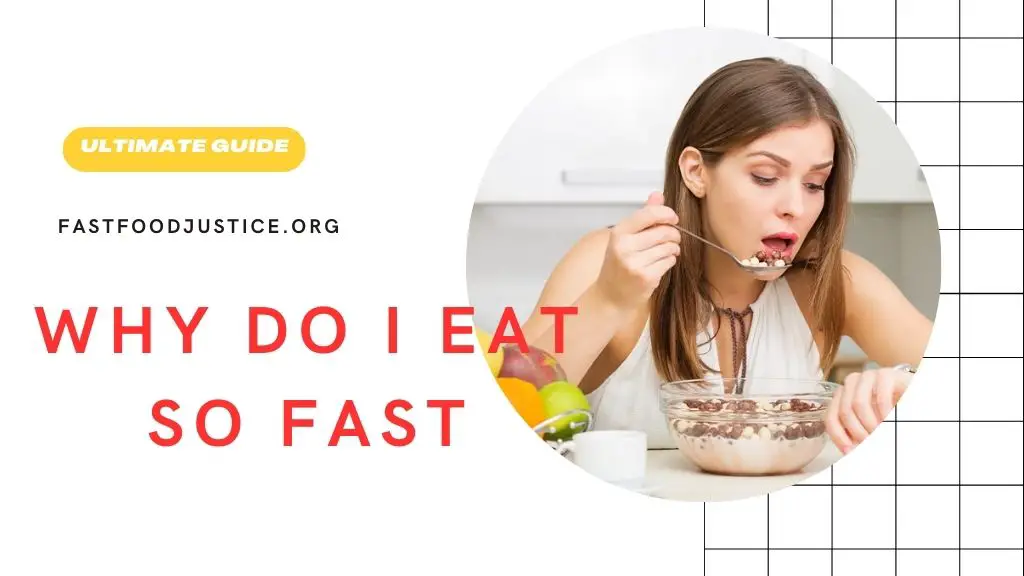 The Importance of Understanding Your Eating Habits
Understanding your eating habits is crucial to maintaining a balanced and healthy lifestyle. Eating quickly is more than just a behavior, it can impact digestion, lead to weight gain and even increase your risk of certain chronic diseases.
By gaining a deeper understanding of why we eat the way we do, we can make more informed choices about our diet and eating behaviors.
Knowing why you eat so fast can be the first step towards making necessary changes to enhance your health and well-being.
Fast Eating 101
Fast eating is a common eating behavior characterized by the rapid consumption of meals, resulting in the ingestion of large amounts of food in short periods.
This often leads to overeating as the individual may consume more than their body requires before satiety signals can be properly received and processed by the brain. Habitual fast eating is frequently linked with a range of health issues, including obesity, gastrointestinal disorders and cardiovascular diseases.
From a psychological perspective, fast eating can also contribute to a disordered relationship with food, wherein meals are not mindfully enjoyed, but rather, seen as purely functional or even stressful events.
Why Do I Eat So Fast?
There are several reasons why people eat too fast:
Limited Time: In today's fast-paced world, many people often find themselves eating in a hurry due to limited time. This could be due to a hectic work schedule or personal commitments that leave little time for a leisurely meal.
Distraction: Eating without paying attention or focusing on the meal is another common cause. This could be due to eating while watching TV, working, or using a smartphone, which diverts attention from the act of eating and the food itself.
Influence of Dining Companions: The speed of the person you're dining with can also affect your eating pace. If they eat quickly, you might find yourself unconsciously matching their speed.
Ignoring Hunger Cues: Not listening to your body's hunger and fullness cues can lead to eating too fast. It takes approximately 20 minutes for your brain to recognize the signals of fullness, so if you consume your meal too quickly, this signal may not register in time to prevent overeating.
Stress or Emotional Eating: Stress or emotional eating is another significant factor that can cause fast eating. Under stress, some people may eat rapidly as a coping mechanism, often without realizing it.
Boredom or Mindless Snacking: Lastly, boredom or habit of mindlessly snacking can lead to eating too quickly. When snacking becomes a habit rather than a response to hunger, it's easy to consume food rapidly and without much thought.
Eating alone: Eating alone can also lead to eating too quickly, as it is often done without any external influence or conversation. People may perceive the meal as a task to accomplish rather than an enjoyable experience and eat at a faster pace.
The key to slowing down your eating pace is being mindful of your meals – focusing on the taste, smell, and texture of your food. Practicing mindful eating can help you enjoy your meals more and make it easier to recognize when you've had enough. Being aware of the reasons why you eat too quickly is also a great place to start in developing better eating habits.
How to Slow Down Eating Habits?
Slowing down your eating habits can be beneficial for both your physical and mental health. Here are some tips to help you slow down:
Chew each bite thoroughly before swallowing.
Put down your utensils between each bite.
Eat with smaller plates and try setting a timer to enforce smaller meals include feeling bloated after meals, indigestion, and frequent hunger. If you notice any of these signs or symptoms, it may be helpful to assess your eating habits and try implementing techniques to slow down your consumption of food.
Eating slowly can help you become more mindful of the foods you consume. By being aware of the flavors and textures in each bite, it can enhance the overall experience of eating and improve digestion.
Make meals a time for socializing or relaxing rather than just eating. This can help reduce stress levels associated with meal times and make them more enjoyable.
The Impact of Fast Eating on Health
Obesity: Eating too quickly often leads to overconsumption as the brain doesn't get enough time to register fullness. This can result in an intake of excess calories, contributing to weight gain and obesity.
Diabetes: Rapid eating can spike your blood sugar levels causing insulin resistance over time. This can put you at a higher risk of developing type-2 diabetes.
Metabolic Syndrome: Fast eaters are often more susceptible to metabolic syndrome, a cluster of conditions including high blood pressure, high blood sugar, excess body fat around the waist, and abnormal cholesterol levels that occur together, increasing your risk of heart disease, stroke and type-2 diabetes.
Gastritis: Eating food too quickly can cause indigestion and inflammation in the stomach lining, known as gastritis. This is because fast eating doesn't give the stomach enough time to produce adequate digestive juices.
Choking: Eating quickly increases the risk of choking, as proper chewing and swallowing may be overlooked.
Refer: Health Risks of Eating Too Fast
The Physiology of Fast Eating
Eating too quickly can have a significant impact on your body in the short and long term. When we rush through a meal, our digestive system has to work harder to break down food molecules more rapidly than it would usually be able to do.
This leads to an increased release of hormones that can cause bloating, cramping or even constipation. Additionally, because we're not taking the time to properly chew and digest our food, we can end up feeling unsatisfied after eating a meal due to a lack of proper nutrient absorption.
In addition to physical effects, there is also evidence that suggests that eating quickly can have mental repercussions as well. Through the process of mindful eating, we're able to become more aware of our body's cues and can learn to recognize when we're full, which can help us to avoid overeating.
When we eat too quickly, however, it can be difficult to notice these signals from the body. This may result in continued eating after the point where we would usually stop if we were paying attention to our bodies.
Conclusion: Why Do I Eat So Fast?
The pace at which we eat can have a profound effect on our health. Consuming food rapidly can lead to an excessive caloric intake, contributing to weight gain and subsequent health concerns. Moreover, fast eating can hinder the digestive process, resulting in conditions such as indigestion and heartburn.
It is crucial to comprehend the significance of mindful eating and the potential health implications of overlooking this aspect of our dietary habits. I encourage all readers to introspect their eating patterns and consider the points discussed in this document.
Implementing mindful, slower eating can contribute significantly to improved digestion, controlled caloric intake and overall better health.