Diet plays an influential role in the health and functioning of our brain, particularly memory. Consuming a balanced diet rich in nutrients like omega-3 fatty acids, antioxidants, and vitamin E can significantly improve cognitive function and delay memory decline.
On the contrary, certain foods high in saturated fat, sugar, and sodium can damage brain cells, impair memory retention, and even contribute to diseases like Alzheimer's.
Understanding the impact of our food choices on brain health is a crucial step towards maintaining a sharp and healthy mind.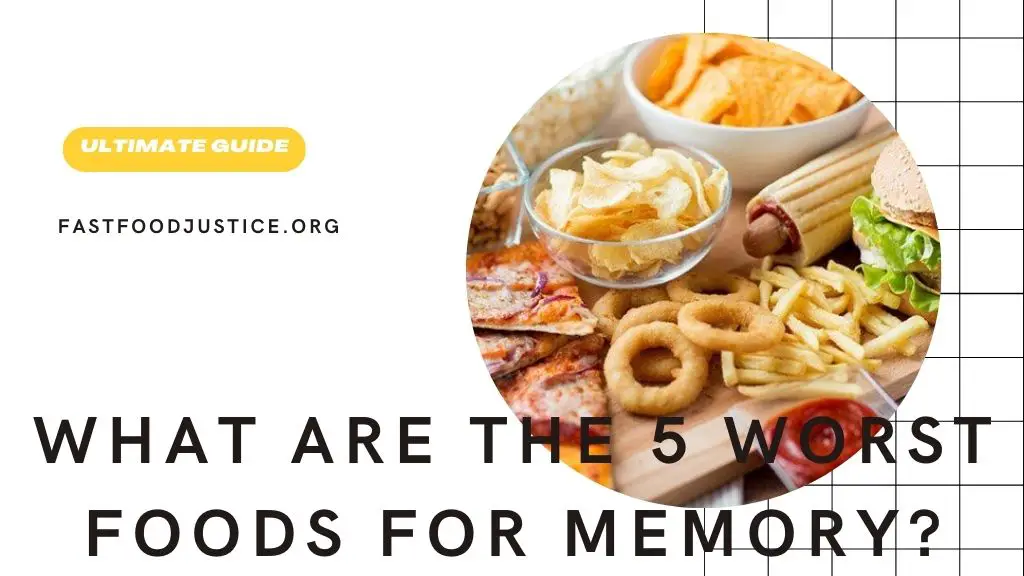 The Connection Between Food and Memory
Foods can significantly impact memory function due to the way they interact with the body's physiological processes. Diets high in saturated fats and sugars can lead to inflammation and oxidative stress, which are harmful to the brain cells that are vital to memory. Studies have shown that diets high in sugar, for example, can impair the brain's ability to process information and form new memories. This is largely due to the way high sugar intake can result in insulin resistance, which affects the brain's ability to use glucose and produce energy.
Similarly, diets high in saturated fats can negatively affect the structure and function of the brain and lead to memory deficits. Research indicates that these types of fats can induce changes in the hippocampus, the brain region responsible for memory and learning. It is also associated with increased production of amyloid-beta, a protein that is connected to Alzheimer's disease.
Sodium, on the other hand, can contribute to hypertension which decreases blood flow to the brain and can lead to cognitive decline. A diet high in sodium can impair the body's ability to regulate blood pressure, and over time, this can affect the integrity of the blood-brain barrier, a crucial component in maintaining brain health.
In contrast, a diet rich in antioxidants, omega-3 fatty acids, and vitamin E can support brain health and enhance memory. These nutrients can help prevent oxidative stress and inflammation, support the health of brain cells, and even stimulate the creation of new neurons – a process known as neurogenesis.
The Five Worst Foods for Memory
1). Processed Meats
Processed meats like sausages, hot dogs, and bacon are high in saturated fats and nitrates. These substances can lead to inflammation and oxidative stress in the body, negatively affecting the brain's health and memory function. The high sodium content in these foods also contributes to hypertension, reducing blood flow to the brain and potentially leading to cognitive decline.
Additionally, research has found a link between a high intake of processed meats and increased risk of Alzheimer's disease. Consuming these foods in moderation while balancing with nutrient-rich options can help maintain healthy brain function.
2). White Bread
White bread is another food to avoid if you want to maintain healthy memory function. White bread is made from refined flour which has been stripped of its fiber and other nutrients that are vital for brain health. In addition, it's often high in added sugars, which can lead to insulin resistance and impair the brain's ability to produce energy.
3). French Fries
French fries are a favorite snack for many, but they can be very detrimental to your brain and memory. They are high in saturated fats which can lead to inflammation and oxidative stress, as well as a high sodium content which contributes to hypertension and reduced blood flow to the brain.
Additionally, french fries are usually cooked in oil at high temperatures, meaning they contain carcinogenic compounds like acrylamide which can be damaging to our health.
4). Cakes and Pastries
Cakes, cookies and pastries are typically high in sugar and unhealthy fats, both of which can lead to inflammation and oxidative stress in the body. Consuming these types of foods can also interfere with the hormones that are responsible for regulating appetite, leading to an increase in overall calorie intake.
In addition, their high content of simple carbohydrates can cause a spike in blood sugar levels which can ultimately lead to memory decline.
5). Soft Drinks & Alcohol
Soft drinks are another food to avoid if you want to maintain healthy memory function. These beverages contain high levels of added sugar that can lead to insulin resistance and impair the brain's ability to produce energy.
Additionally, soft drinks are often very acidic which can damage the cells that make up our brains and cause memory loss. While occasional consumption is alright, it's important to limit intake as much as possible for optimal brain health.
Healthy Alternatives
Blueberries: Packed with antioxidants that may delay brain aging and improve memory.
Turmeric: Its active compound, curcumin, has been shown to cross the blood-brain barrier and has anti-inflammatory and antioxidant benefits.
Broccoli: High in antioxidants and vitamin K, which is believed to support brain health.
Pumpkin Seeds: Rich in antioxidants and a rich source of magnesium, iron, zinc, and copper.
Dark Chocolate: Contains flavonoids, caffeine, and antioxidants.
Nuts: Especially walnuts, which have high levels of DHA, a type of Omega-3 fatty acid.
Oranges: Excellent source of vitamin C, which is key for preventing mental decline.
Eggs: Good source of several nutrients tied to brain health, including vitamins B6 and B12, folate, and choline.
Green Tea: Besides caffeine, green tea contains an amino acid called L-theanine, which can cross the blood-brain barrier and increase the activity of the neurotransmitter GABA, which helps reduce anxiety and makes you feel more relaxed.
Avocados: Rich in monounsaturated fats, which are thought to help protect against age-related cognitive decline.
Beans: High in fiber and antioxidants, which can help improve mental alertness and focus.
Spinach: Contains carotenoids, lutein, and zeaxanthin – all beneficial for long-term brain health.
Salmon: An excellent source of Omega-3 fatty acids, which have been linked to improved memory and cognition.
Coconut Oil: Contains medium chain triglycerides (MCTs) that can help increase energy levels and mental alertness.
Kale: Containing vitamin C, potassium, calcium, iron and magnesium, it's thought to improve brain function.
Conclusion
Incorporating these foods into your diet can significantly improve your brain health and memory. Each component, from the antioxidants in blueberries to the Omega-3 fatty acids in salmon, plays a crucial role in enhancing cognitive function.
Small dietary changes can lead to a noticeable difference in your memory and mental sharpness. We encourage everyone to take a step towards better brain health through their diet. After all, a nourished brain leads to an enriched life.
Remember, the food you eat directly influences your brain's performance, so choose wisely and eat for a healthier mind.