Ghee, a type of clarified butter, originates from India and has been a mainstay ingredient in South Asian cuisine for centuries. Made by simmering butter and removing the milk solids, ghee is a lactose-free alternative that boasts a rich, nutty flavor.
Aside from its culinary uses, ghee also carries a multitude of health benefits. It's packed with vitamins A, E, and K2 and is known for its anti-inflammatory properties. Furthermore, it aids in digestion and promotes a healthy immune system.
Knowing where to find ghee in a grocery store is essential for those who want to incorporate this versatile ingredient into their diet. It's typically located in the international or health food aisle, but availability may vary depending on the store.
By understanding where to locate ghee, you ensure you can effortlessly infuse its distinctive flavor and health benefits into your meals.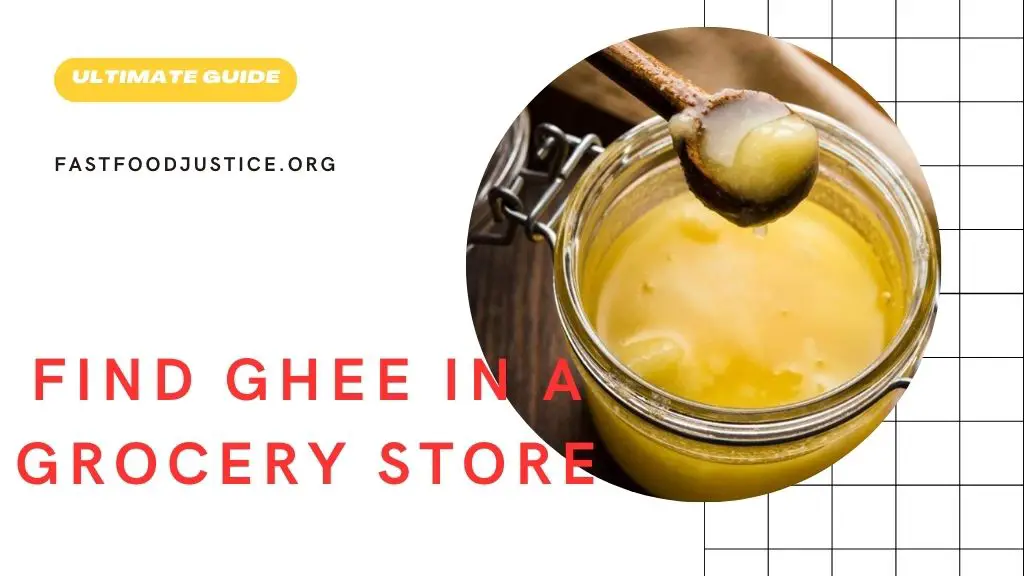 What is Ghee?
Ghee is a form of clarified butter that has its roots in the ancient culinary traditions of India. It's revered not only for its rich, nutty flavor but also for its high smoke point, which makes it ideal for frying and sautéing.
Ghee is produced through a meticulous process that involves simmering butter until the water evaporates and the milk solids separate, which are then strained to yield a golden, translucent liquid that is pure fat.
The Process of Making Ghee
The transformation of butter into ghee is a careful process that requires patience and precision. It starts with simmering butter on low heat. As the butter melts, it begins to separate into three layers – a foamy layer on top, a middle layer that contains the majority of the butterfat and a bottom layer of milk solids.
The foam is skimmed off and the remaining butter is left to simmer until all the water has evaporated and the milk solids at the bottom begin to brown. The resulting liquid is strained to remove the browned milk solids, leaving behind pure, aromatic ghee.
Health Benefits and Culinary Uses of Ghee
Ghee is lauded for its impressive health benefits. It's a rich source of fat-soluble vitamins A, E and K2, which play key roles in maintaining heart health, boosting the immune system and supporting bone development. Ghee also contains butyrate, a short-chain fatty acid that contributes to gut health.
Additionally, it is free from lactose and casein, making it a suitable choice for those with dairy sensitivities or intolerances.
In the culinary world, ghee is prized for its high smoke point and nutty flavor. It's frequently used in Indian cuisine, enhancing the flavors of everything from dals to biryanis.
But its uses extend beyond this, ghee can also be used in baking, grilling, or even as a spread on toast. The rich, nutty flavor of ghee can elevate a simple dish to gourmet level, making it a must-have in every kitchen.
Where to Find Ghee in Grocery Stores?
Locating ghee in a grocery store can be a little tricky if you're not familiar with the store layout or the product itself. Here are some general locations where you can typically find ghee.
International Aisle
Given ghee's roots in South Asian cuisine, the international aisle is usually the first place to check. Look for the section dedicated to Indian foods, where ghee is likely shelved next to other staples like basmati rice and curry paste.
Health Food Section
Ghee is recognized for its health benefits and is often found in the health food section of many grocery stores. It can be on the shelves along with other alternative cooking oils like coconut oil or avocado oil.
Dairy Aisle
Since ghee is made from butter, it's sometimes located in the dairy aisle. Look for it near the butter and margarine.
Baking Aisle
In some stores, ghee might be found in the baking aisle. This is because ghee is an excellent choice for baking, due to its rich flavor and high smoke point.
Remember, the exact location may vary depending on the store. If you're having trouble finding it, don't hesitate to ask a store employee – they're there to help! And if your local grocery store doesn't carry ghee, you can always find it online or at a specialty health food store.
Brands of Ghee to Look For
When shopping for ghee in a grocery store, you'll come across several different brands, each with their unique features. Here are some brands that you might find:
Organic Valley: A popular brand that offers USDA-certified organic ghee. Its rich flavor and health benefits make it a favorite choice among consumers.
Ancient Organics: Known for their artisan ghee, Ancient Organics ghee is crafted from the milk of grass-fed cows and is a common choice for those seeking a premium product.
4th & Heart: This brand offers ghee infused with flavors like Himalayan pink salt, vanilla bean and truffle, bringing a unique twist to the traditional ghee.
Grassland Nutrition: Their ghee is made from grass-fed and pasture-raised cows, making it a hit among health-conscious consumers.
Nanak Pure Desi Ghee: This brand is known for their authentic Indian ghee and is usually found in the international aisle.
Remember that the availability of these brands may vary depending on the store and its location. Always check the label to ensure that the ghee you're purchasing meets your dietary needs and preferences.
Where to Buy Ghee Near me or Online?
Ghee, an essential ingredient in many culinary traditions, is readily available in several different venues. If you're looking to buy ghee near you, start by checking your local grocery stores, especially those with expansive international food sections.
Stores like Whole Foods, Trader Joe's, and even larger chains such as Walmart and Target often carry ghee. For a wider variety of options and brands Indian and Middle Eastern specialty stores are also worth a visit.
Alternatively, if you prefer shopping from the comfort of your own home, numerous online platforms sell ghee. Amazon, for instance, offers a multitude of ghee products from various brands, all available at the click of a button.
Further, online health food shops and gourmet food marketplaces also often stock ghee. It's always recommended to compare prices and read reviews before making a purchase.
Ghee Alternatives
While ghee holds a distinctive place in culinary applications, there may be situations where you don't have it on hand or prefer to use an alternative.
Here are a few substitutes that you can consider:
Butter: Since ghee originates from butter, it stands as the most straightforward substitute. Bear in mind, however, that butter contains lactose and casein, which ghee does not and its lower smoke point makes it less ideal for high-heat cooking.
Coconut Oil: If you're looking for a dairy-free alternative with a high smoke point, coconut oil can be an excellent choice. Its flavor profile can change the taste of your dishes, so use it in recipes where its tropical flavor would be welcome.
Olive Oil: Another healthy alternative, olive oil is best used in low or medium-heat cooking due to its lower smoke point. It's rich in monounsaturated fats and adds a Mediterranean touch to your dishes.
Avocado Oil: With the highest smoke point among cooking oils, avocado oil makes a suitable alternative for high-heat cooking. It has a neutral flavor and is packed with beneficial monounsaturated fats.
Clarified Butter: Much like ghee, clarified butter has had the milk solids removed. However, it isn't simmered as long, so it lacks the nutty flavor of ghee but still works as a decent substitute.
Factors to Consider When Buying Ghee
When shopping for ghee, several factors can determine the quality of the product and influence your purchase decision. Here are some key considerations to keep in mind:
Source of Milk
The best ghee is usually made from the milk of grass-fed cows. This is because grass-fed cow's milk is rich in conjugated linoleic acid, omega-3 fatty acids, and vitamin K2, which contribute to the nutritional value of ghee. Check the label to see if it specifies the source of the milk.
Processing Method
Traditional ghee is made by simmering butter slowly until all the water evaporates and the milk solids caramelize. This method preserves the nutrients while giving ghee its characteristic flavor. Avoid ghee that is made using chemical methods or high heat.
Packaging
Ghee stays fresh longer when it is packaged in dark-colored or opaque containers, which protect it from light damage. Additionally, glass containers are preferable as they don't leach chemicals into the ghee.
Organic and Grass-fed Labels
Look out for ghee that is labelled as organic and grass-fed, as this would indicate that the cows were not exposed to pesticides, growth hormones, or antibiotics. Organic, grass-fed ghee is generally superior in taste and nutrition.
Price
While ghee is more expensive than many other cooking oils and fats, the price can be indicative of the product's quality. However, price should not be the sole determinant. Compare products and their respective prices to ensure you're getting good value for your money.
Color
Ghee color can vary from deep yellow to a lighter shade depending on the type of butter used and the length of the simmering process. A deep yellow color typically indicates a high-quality ghee.
Remember, when it comes to choosing ghee, preference can play a significant role. Some may prefer a milder flavor, while others may opt for a rich and nutty taste. Understanding these factors will help you select the best ghee for your cooking needs.
Conclusion: Find Ghee in a Grocery Store
In conclusion, ghee, with its rich, nutty flavor and high smoke point, is a versatile ingredient used in a variety of culinary applications. When shopping for ghee in grocery stores, you are likely to encounter a range of brands, each offering its unique features.
This includes popular brands like Organic Valley, Ancient Organics, 4th & Heart, Grassland Nutrition, and Nanak Pure Desi Ghee. However, availability may vary based on the store's location.
If you're unable to find ghee or prefer an alternative, options such as butter, coconut oil, olive oil, avocado oil, and clarified butter are available, each with their advantages and considerations.
When purchasing ghee, it's crucial to consider several factors, including the source of milk, processing method, packaging, organic and grass-fed labels, price and color. These elements can significantly influence the quality and nutritional value of the ghee, thereby impacting your cooking experience.