Lentils, small but nutritionally mighty members of the legume family, are often overshadowed by their well-known counterparts, beans and peas. Yet they pack a potent punch of health benefits. High in protein and rich in dietary fiber, lentils also provide a hefty supply of micronutrients such as iron, manganese, and folate.
Originating from the Near East and Mediterranean regions, lentils have spread across the globe and are now integral to many world cuisines. From the hearty lentil stews of North American winter meals to the spiced dals of Indian subcontinent, and the savory lentil salads of the Mediterranean, these versatile legumes have adapted to a plethora of flavor profiles and cooking methods.
Whether you're a seasoned lentil lover or a curious newcomer, understanding where to find lentils in your local grocery store can help you incorporate them into your meals for a boost of nutrition and taste.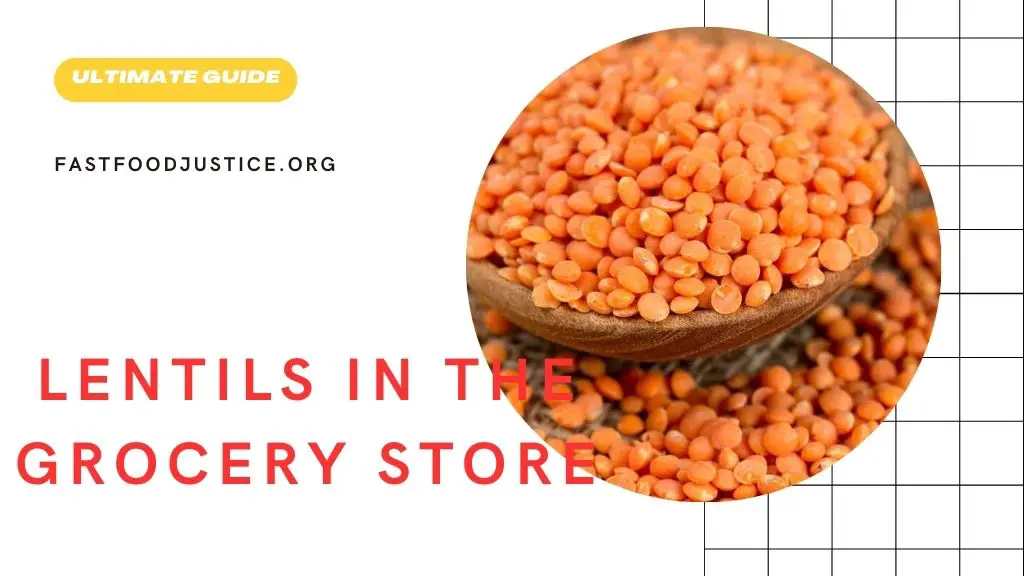 The Different Types of Lentils
Lentils come in a variety of types, each with its unique flavor, texture, and culinary application.
Red Lentils: These lentils, which are actually orange in color, are often used in dishes like soups and stews because they break down quickly during cooking, creating a creamy texture. Their mild, subtly sweet flavor makes them a popular choice in Indian and Middle Eastern recipes, such as dal.
Green Lentils: Green lentils have a slightly peppery taste and a firm texture that holds up well to longer cooking times. Due to their robust flavor and texture, they are ideal for salads and side dishes.
Brown Lentils: The most common type found in grocery stores, brown lentils have a mild, earthy flavor and hold their shape reasonably well. They are versatile and can be used in a variety of dishes, including soups, stews, and casseroles.
Black Lentils: Also known as 'Beluga' lentils due to their resemblance to caviar, black lentils have a rich, earthy flavor and a soft texture. They are often used in salads and side dishes, or as a garnish for fish and poultry.
Where are Lentils in the Grocery Store?
As a rule of thumb, lentils are typically located in the same aisle or section as dried beans and pulses in most grocery stores. This is where you'll commonly find brown lentils, the most prevalent variety.
If your grocery store has an international or global foods aisle, check there too. Certain types of lentils, particularly red and black varieties, are staple ingredients in many ethnic cuisines and may be stocked with other ingredients from those regions.
In addition, some stores feature a bulk foods section where you can buy lentils in any quantity you need. This option can be cost-effective, particularly if you're experimenting with a new recipe and only need a small amount. Remember to check the packaging for the cooking times, as different types of lentils may require different durations of cooking.
Lastly, don't forget to check the canned (soups, rice) foods aisle. Canned lentils, while not as common as canned beans, are an excellent option for those seeking convenience. They're fully cooked and ready to use, saving preparation time.
Whether you're new to cooking with lentils or a seasoned pro, knowing where to find lentils in the grocery store will make your shopping trips more efficient and enjoyable.
The Organic Section: Another Spot for Lentils
For health-conscious shoppers, the organic and health food sections of grocery stores are becoming increasingly important. Lentils are no exception to this. As a nutrient-rich, plant-based source of protein, lentils fit perfectly into a health-oriented diet, and organic lentils provide shoppers with reassurance that their food is free from synthetic pesticides and fertilizers.
Organic lentils, whether they are green, brown, red, or black, are often found in the organic or health food sections of the grocery store. These lentils are grown using organic farming methods, and comply with strict standards of agricultural sustainability, animal welfare, and environmental preservation.
They are typically available in both bagged and canned forms, giving you the freedom to choose based on your culinary needs and preferences.
Equally, in stores with a dedicated health food section, lentils are often prominently featured due to their high nutritional value. Here, you may also find lentil-based products, such as lentil pasta or lentil chips, which provide an alternative way to incorporate this healthy legume into your diet.
While organic lentils may cost a bit more than their conventional counterparts, many shoppers are willing to pay the premium for the peace of mind that comes with knowing their food is grown without harmful chemicals.
Moreover, the health benefits that lentils bring, coupled with their culinary versatility, make them a worthwhile addition to any diet. Whether you're an organic food enthusiast or just looking to eat healthier, don't overlook the organic section when searching for lentils in your local grocery store.
Bagged Lentils vs. Canned Lentils: A Comparison
When shopping for lentils, you'll generally encounter two main options: bagged (dry) lentils and canned lentils. They each have their pros and cons, and your choice largely depends on your personal preferences, time constraints, and culinary needs.
Location in the Grocery Store
As previously mentioned, bagged lentils are usually found in the dried beans and pulses section of the grocery store, or in the international foods aisle. Canned lentils are typically located in the canned goods aisle along with other canned vegetables and legumes.
Nutritional Differences
Both bagged and canned lentils are packed with vital nutrients such as protein, fiber, iron, and folate. However, the canning process may cause slight nutrient loss, especially water-soluble nutrients like vitamin C and B vitamins.
Other, canned lentils often have a higher sodium content due to added salts used as preservatives. If you opt for canned lentils, look for low-sodium versions or rinse them thoroughly before use to reduce sodium levels.
Cooking Times
Bagged lentils require soaking and cooking, which can take anywhere from 20 minutes for red lentils to up to 45 minutes for some green and brown varieties. Canned lentils, conversely, are pre-cooked and ready to use right out of the can, making them a convenient time-saver for quick meals.
Both bagged and canned lentils offer their unique advantages. Bagged lentils are great for those who prefer to control the cooking process from start to finish and might have slightly higher nutritional content. Canned lentils, meanwhile, are an excellent choice for those seeking convenience and faster meal preparation.
Buying Lentils in Bulk: A Cost-Effective and Eco-Friendly Option
Purchasing lentils in bulk is a fantastic option for those who consume this nutritious legume regularly or those who are keen on reducing packaging waste. Bulk lentils are often found in the bulk foods section of the grocery store, where customers are allowed to buy as much or as little as they need. This can be particularly beneficial when trying a new lentil variety or recipe, as you can buy just the right amount you need without leftover.
In terms of varieties, bulk sections usually offer a range of lentil types, including green, brown, and red lentils. The contents are stored in large bins, and customers use a scoop to transfer the lentils into a reusable bag or container, which is then weighed at checkout.
Buying lentils in bulk not only reduces packaging waste, but it's generally more cost-effective. Since you're not paying for excess packaging, the cost per unit is often lower. Plus, it gives you the freedom to buy in large quantities, which is excellent for meal prep or batch cooking.
When buying in bulk, always remember to check the store's turnover rate. Freshness is key with lentils, and stores with a high turnover of stock will likely provide fresher lentils. Whether you're a regular lentil consumer, trying to cut down on costs, or looking to make more environmentally friendly shopping choices, consider the bulk. An error occured during generation. Please try again or contact support if it continues.
Where to Buy Lentils: Local and Online Options
Finding lentils nearby or online is easier than you might think, with a variety of options available.
Local Grocery Stores
Most local grocery stores, including Stop and Shop, Giant, Whole Foods, Trader Joes, King Soopers, Safeway, and Walmart, have a wide range of lentils. You can often find them in the dried goods, canned goods, health food, and bulk sections. Depending on the size of the store and the diversity of its clientele, you might even find less common varieties, such as Puy or black beluga lentils.
Amazon
Online shopping provides even more options for buying lentils. Amazon, for example, offers a wide selection of lentils that can be delivered straight to your doorstep.
You can find bagged, canned, organic, and specialty lentils in just a few clicks. And if you're an Amazon Prime member, you can often get these lentils delivered with free, two-day shipping.
Selecting and Storing Lentils: A Mini Guide
In conclusion, not only is the selection of lentils vast and varied, but the method of purchasing can also make a significant impact on your culinary endeavors and lifestyle. Here are some quick tips to ensure you're getting the most out of your lentils:
Select wisely: Choose lentils that are whole and not cracked. The color should be vibrant, not dull. If buying in bulk, make sure that the store has a high turnover to ensure freshness.
Storage: Store lentils in a cool, dark, and dry place. An airtight container is your best bet to prevent moisture and pests.
Check for stones: Before cooking, sort your lentils to remove any small stones or debris that might have been missed during packaging.
Consider your needs: If convenience is your priority, canned lentils are the way to go. If you prefer cooking from scratch or are concerned about sodium content, dry lentils would be a better choice.
Remember, lentils are a nutritious, versatile, and economical addition to your diet. Exploring different varieties can add new flavors and textures to your meals. Whether you prefer shopping at your local grocery store or online, there's a whole world of lentils waiting for you to discover.