A Dutch oven, known for its versatility and durability, is a culinary workhorse in any kitchen setting. It's a thick-walled cooking pot with a tight-fitting lid, traditionally made of seasoned cast iron.
Whether it's braising meat, baking bread, frying eggs or simmering stews, a Dutch oven can do it all with remarkable efficiency. But as we seek to explore the full range of this versatile kitchen tool's capabilities, one might ask: can you boil water in a Dutch oven? The answer is a resounding "yes"
Let's explore how a Dutch oven makes this seemingly simple task even more efficient.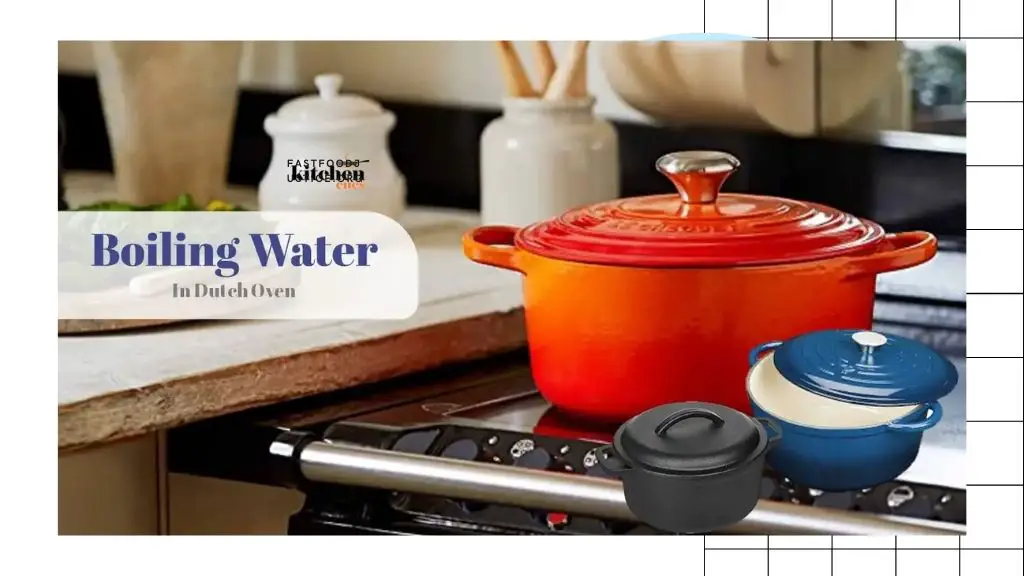 Dutch Oven 101
The Dutch oven has a rich history dating back to the 17th century. Originally cast in brass, it was named 'Dutch' due to the novel casting technique developed by the Dutch that was then used by the English. The material composition later evolved to cast iron, which is currently the preferred choice due to its superior heat retention and even distribution characteristics.
In terms of structural characteristics, the Dutch oven is known for its thick walls and heavy, tight-fitting lid. These features allow it to trap and maintain heat effectively, making it an ideal tool for slow cooking methods such as braising, stewing, and even baking. Notably, its ability to withstand high temperatures also makes it suitable for boiling water.
The mass and material of the Dutch oven help in maintaining a steady boil, thus, making it an efficient tool not just for complex cooking tasks but also for simple ones like boiling water.
What type of Dutch Oven is Best for Boiling Water?
When it comes to boiling water, enameled cast iron Dutch ovens, such as those from Le Creuset, are an excellent choice. Their weight and construction allow for uniform heat distribution, ensuring the water heats evenly. Plus, the enameling provides a non-reactive surface that won't alter the taste of your water or food.
However, it's important to note that cast iron retains heat for longer, so always use heat-resistant mitts when handling. From a safety perspective, Dutch ovens with a heavy lid are preferable for boiling water, as the lid prevents steam from escaping and reduces the risk of boiling over.
Can You Boil Water in a Dutch Oven?
Absolutely, you can boil water in a Dutch oven. As a versatile piece of cookware, a Dutch oven is capable of handling a variety of cooking techniques, boiling included. Its heavy construction and good heat retention make it ideal for bringing water to a rapid boil.
Whether you're on a campsite or in your home kitchen, a Dutch oven does the job effectively. However, it's important to handle it with care due to its weight and the heat it retains. Always use pot holders or oven mitts when lifting a hot Dutch oven and ensure it's placed on a stable, heat-resistant surface.
Dutch ovens possess several thermal properties that make them perfectly suited for boiling water. First, their heavy-gauge construction, typically cast iron or thick aluminum, allows them to absorb and distribute heat evenly, ensuring consistent boiling.
Furthermore, the heaviness of a Dutch oven retains heat exceptionally well, even when the heat source is removed. This makes maintaining a rolling boil easier and more energy-efficient. Lastly, the tight-fitting lid helps retain steam and heat, speeding up the boiling process and reducing the chance of the water cooling down quickly.
These properties make Dutch ovens an excellent choice for tasks that require sustained high temperatures, such as boiling water.
Steps to Boil Water in a Dutch Oven
Preparing the Dutch Oven: First, make sure your Dutch oven is clean and dry. If it's cast iron, ensure it is properly seasoned to prevent food from sticking and to enhance heat retention.
Adding Water: Pour your water into the Dutch oven. Remember, it's not necessary to fill the pot to the brim. Usually, filling it halfway or two-thirds is sufficient.
Heating the Dutch Oven: Place the Dutch oven on your stovetop, campfire, or camping stove. Set your heat source to medium-high if on a stovetop or regulate the fire to a moderate flame if outdoors.
Waiting for the Boil: Cover the Dutch oven with its lid to increase heat retention. Watch for signs of boiling such as steam escaping from the Dutch oven or a rolling boil when you lift the lid.
Safety Measures: Always use oven mitts or pot holders when handling the Dutch oven to avoid burns, as the entire pot, including the handle, will be hot.
Remember, boiling water in a Dutch oven is indeed possible and quite effective, thanks to the oven's excellent heat retention properties. Whether you're in your home kitchen or enjoying the great outdoors, a Dutch oven can be a valuable tool in your culinary arsenal.
Tips and Precautions when Boiling Water in a Dutch Oven
Boiling water in a dutch oven is a fundamental cooking skill that while simple, requires a few expert tips for maximum efficiency:
Preheat the Oven: Bring your dutch oven to a warm temperature before adding water. This prepares the oven for the heat increase and minimizes the risk of cracking due to thermal shock.
Fill Appropriately: Do not overfill your dutch oven. Leave some space at the top to allow for expansion and to prevent boil-over.
Lid On: Keep the lid on the dutch oven as this will help the water boil faster by trapping the heat.
Safety precautions are also essential to avoid accidents:
Use Protective Gear: Always use oven mitts or pot holders when handling a hot dutch oven to prevent burns.
Stay Alert: Do not leave a boiling dutch oven unattended. Watch closely to prevent boil-over or potential fire hazards.
Cool Down: Allow the dutch oven to cool before cleaning to prevent thermal shock.
Remember, the key to successfully boiling water in a dutch oven lies in careful heat management and safety practices.
What are The Best Boiling Devices?
When it comes to boiling devices, several options stand out due to their efficiency, durability and user-friendly features.
Electric Kettles: An electric kettle is a quintessential kitchen appliance that offers rapid heating and precise temperature control. Models like the Cuisinart CPK-17 PerfecTemp and the Bonavita BV382510V are renowned for their high performance and sleek design.
Stovetop Kettles: For those who prefer a traditional approach, stovetop kettles like the Le Creuset Enamel-on-Steel Whistling Tea Kettle are a great choice. They're not only efficient but also add a touch of nostalgia to the kitchen.
Induction Cooktops: If versatility is required, induction cooktops can handle a variety of pots designed for boiling. The Breville Polyscience Control Freak Temperature Controlled Commercial Induction Cooking System is a standout, offering precision temperature control.
Instant Pots: Incorporating a multitude of cooking functions, Instant Pot's line of pressure cookers, such as the Instant Pot Duo Nova, can effectively boil water while also functioning as a slow cooker, rice cooker and more.
Each of these boiling devices offers its unique advantages, so your selection will ultimately depend on your specific needs and preferences.
Conclusion
Boiling water in a Dutch oven is a practical and efficient cooking method that can serve you well, whether you're in the comfort of your own home or out exploring the great outdoors. The steps involved are straightforward, and with the right precautions, you can safely perform this task.
The Dutch oven, with its superior heat retention properties, makes it an ideal vessel for boiling water and other cooking needs. So don't be hesitant, give it a try!
Your Dutch oven is not just for pot roasts and stews, it's a versatile kitchen tool waiting for you to unlock its full potential. As with any new endeavor, practice makes perfect. Happy cooking!
Cocotte vs Dutch Oven: Choosing Your Ideal Cookware