What is Ghee?
Made from cow's milk, ghee is basically a highly-clarified butter, traditionally used for cooking mostly in Asian and Middle East communities. The process of making it starts by melting regular unsalted butter which then breaks down into two parts; Milk solids and clear liquid fats.
This liquid part is what is referred to as ghee, but then you have to heat it further until the solid parts settle at the bottom of your skillet and starts to turn brown. It's the browning of the solids which gives ghee its unique nutty aromatic flavor and color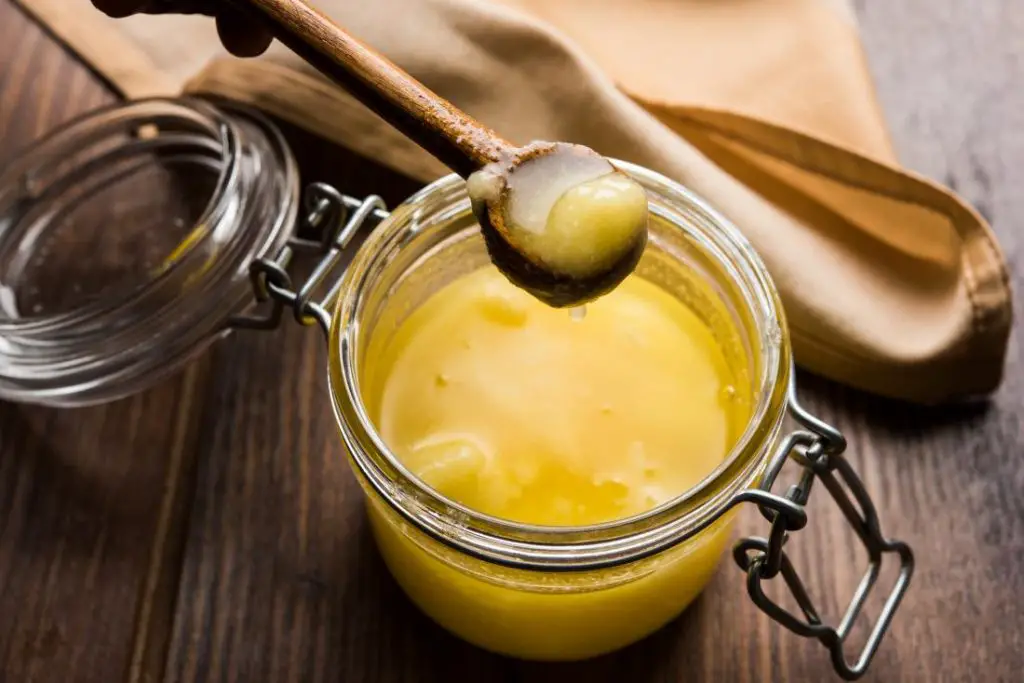 Why Would You Want to Substitute Ghee?
Ghee can be used as an ingredient on its own, used as a substitute or replaced in recipes as well. Here are some of the instances where you can find yourself compelled to substitute ghee:
You have none left. Ghee can be made at home, but then there are those moments when you might have cleared whatever it is that you had and don't have time to get the same ready and your recipe at the same time. With such, you can substitute ghee with what you have at home or that which you can conveniently find.
Dietary Needs. No matter how healthy ghee is compared to cooking oil and other variants, it might not go well with you if you're lactose intolerant. At the same time, it's not also recommended for everyday use for those who are trying to keep fit because it has traces of higher saturated fats. To avoid any health risks, you can always explore other natural substitutes with similar flavors.
Something New. Traditional dishes are particular in terms of ingredients used, but then there's always room for trying something new. This is why it's even better when you try different ghee substitutes before settling on a particular one because then you'll be certain with what works best for you.
Best Ghee Alternatives in Recipes:
There's no universal substitute for ghee, so you can always pick one based on the recipe you have at hand, and your needs in general. Here is a simple guide to help you make the right choice:
Substituting Ghee with Butter
Butter stands out as the best and closest substitute for ghee in most substitutes. This traces back to how ghee is made, which actually has butter in it. Apart from the fact that it's a staple in most homes, it takes the lead also because it's available in different forms making it easy to pick based on your flavor preference.
You can either go flavorful, natural or the vegan way. Just like ghee, butter is equally flexible in terms of usage, so you can always keep a block for healthier meals, just like ghee.
The Best Substitute for Ghee in Baking
Butter. Being the most natural substitute and base for ghee, butter is the easiest switch for ghee when baking. You can choose to use your replacement in similar quantities of ghee that the recipe calls for, however this will miss out on the texture and moisture. You can therefore go slower with dry ingredients used, or double up amounts of butter used for best results.
Olive Oil and Butter Mixture. If you're more into flavor, butter alone will not work out for you. You can therefore mix it with olive oil to get something close to the nutty flavor and texture. Bringing in olive oil also helps prevent your baked products from sticking or burning. However, if whatever it is you're baking needs the fats to remain in solid form, olive oil might not work well because it comes in liquid form.
The Best Ghee Substitute in Vegan Dishes
Lower temperatures. You can pull out your non-dairy substitutes like vegan butter for those recipes which call for sautéing, frying and any other cooking needs requiring lower temperatures. The only challenge is that the flavor will not be distinctive like in ghee, but it's healthier for dietary needs.
Higher temperatures. If it's something to be cooked longer or under higher temperatures, opt for organic oils like avocado or coconut oil. These might also affect the taste of your dish depending on the variant of the oil you're using. With coconut oil for instance, you can use the unrefined option for rich or tropical flavors or add a flavor to it all together.
Substituting Ghee for Butter in Butter Cream.
Butter cream is a frosting variant made by mixing fats, sugar and milk or cream to achieve a smooth and fluffy paste. For the fats, you can use butter, shortening, margarine, and in the spirit of substituting, concerns have been raised on whether one can replace butter with ghee when making butter cream.
Ghee has always been a healthy substitute for butter in baking, but then this is limited to some extent. That is to say, you can always have it for mixing batter and greasing the baking tins, but then its strong nutty flavor profile isn't something you want to infuse in some techniques like making butter cream frostings.
Tips on Using Replacements for Ghee
Flavor Balance. Substituting ghee revolves around replicating its flavor, so that you end up with relative, if not similar results. We have substitutes like butter which are close enough, but then you might have to customize the flavor by either cooking the substitute or by bringing in additional flavoring variants like vanilla essence.
Health Benefits. As mentioned, many opt for ghee in the first place because of dietary or nutritional reasons, as opposed to cooking oil. This means that whatever you pick should be able to deliver the same results, not only in form of flavor and texture, but also nutritional values.
Ratio Balance. From the breakdown of ghee substitutes, it's evident that the outcome leans further to the quantities of ghee stated in the recipe versus that of the substitute you use. We have those substitutes which can be used singlehandedly, those that have to be combined and those whose quantities have to be doubled.
Conclusion
Ghee comes with loads of health benefits, so substituting it in your recipes shouldn't even be an option in the first place, unless you have to. At the same time, you can always trust the reliability of the list of best ghee substitutes we have explored to keep you covered any time you run out or want to try something different.