When you're feeling under the weather, the last thing you want is a complex meal, but you still crave something comforting and satisfying. Fast food, often frowned upon for its unhealthiness, can surprisingly offer some options that are easy on the stomach and help you recuperate.
Here, we will explore the best fast food options when you're sick, keeping in mind both their nutritional profiles and ease of digestion, providing you with choices that are not just delicious, but also contribute to your recovery.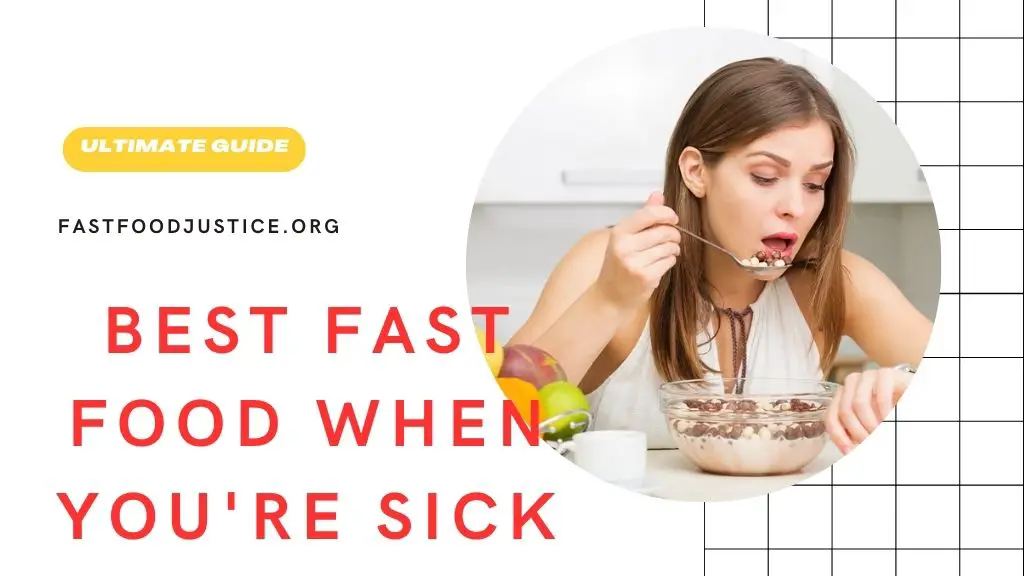 Why Fast Food?
When you're feeling unwell, cooking can seem like an exhausting task. Fast food presents an appealing alternative, delivering comfort and convenience straight to your doorstep. It's typically ready-to-eat, eliminating the need for meal preparation and cleanup.
Moreover, fast food offers a wide range of options, allowing you to choose items that align with your cravings and dietary needs. Whether you're seeking a warm soup to soothe a sore throat or a mild, easy-to-digest meal when your stomach is unsettled, fast food can be a practical solution.
However, it's important to make mindful choices, prioritizing options that are nutritious and restorative.
Best Fast Food When You're Sick: Top Choices for Common Illnesses
You have a cold
When grappling with a cold or flu, your body needs nutrients to help bolster your immune system. However, your appetite might be significantly reduced.
Here are some fast food options that are easy on the stomach, warm, and replete with the necessary nutrients:
Chicken Soup: Whether it's traditional chicken noodle soup or a more exotic Thai-inspired chicken soup, the warm broth not only soothes the throat but also helps to clear nasal congestion. Several fast-food chains like Panera Bread, Chick-Fil-A, and Boston Market offer variations of this comforting staple.
Baked Potatoes: Easily available at places like Wendy's, baked potatoes are a rich source of Vitamin C and fiber. You can customize your potato with mild toppings like chives or sour cream, according to your taste and tolerance.
Grilled Chicken Sandwich: Grilled chicken is a great source of lean protein that can help your body fight off illness. Go for whole-grain bread for added fiber and nutrients. Most fast-food chains like Subway and McDonald's offer grilled chicken sandwiches.
Remember, it's crucial to stay hydrated and rest when you're sick. While these fast food options might be more appealing than cooking, they should complement a regimen of plenty of fluids and plenty of rest.
For Upset Stomach
When you're dealing with an upset stomach, you need foods that are bland, easy to digest, and low in fat. Here are a few fast food choices that can help:
Plain Rice: A staple in many diets, plain rice can help absorb stomach acids and settle a queasy stomach. Fast food chains such as Panda Express or Chipotle offer this as a side option.
Toast or English Muffins: Available at most fast-food breakfast joints like McDonald's or Dunkin', plain toast or an English muffin can be a good option when your stomach is feeling off. They are light and easy to digest.
Apple Slices: Many fast food places like McDonald's or Chick-Fil-A offer apple slices as a side. Apples are a good source of pectin, which can help soothe a troubled stomach.
Banana Smoothies: Offered at places like Jamba Juice or Smoothie King, banana smoothies can help soothe an upset stomach. Bananas are gentle on the stomach and can help replace potassium, which might be low if you're sick.
Remember to avoid fatty, greasy, or spicy foods as they can exacerbate stomach discomfort. Also, stick to small, frequent meals instead of three large ones.
For Fatigue
When you're feeling exhausted or fatigued, you need foods that can provide a quick energy boost. Here are some fast food choices that can help:
Whole Grain Bagel with Peanut Butter: A whole grain bagel provides complex carbs for sustained energy, while peanut butter adds a dash of protein. Places like Dunkin' or Einstein Bros offer diverse bagel and spread options.

Oatmeal: A high-energy food, oatmeal is a great choice when you're tired. It's a complex carbohydrate, so it will give you a slow and steady release of energy. Chains like Starbucks and Jamba Juice typically offer oatmeal.

Fruit and Yogurt Parfait: Many fast food spots like McDonald's and Chick-Fil-A have delicious and energizing fruit and yogurt parfaits. The combination of protein from the yogurt and natural sugars from the fruit can deliver a quick pick-me-up.

Green Smoothies: Available at places like Smoothie King or Jamba Juice, green smoothies made with spinach, kale, and fruits like bananas or apples can provide a quick energy boost.
Remember, while these foods can provide a quick energy fix, adequate sleep and a balanced diet are critical for managing fatigue in the long run.
Factors to Consider When Choosing Fast Food While Sick
When you're unwell, it's crucial to make mindful food choices that can aid in your recovery. While comfort is an important factor, especially when you're feeling under the weather, it should be balanced with nutritional considerations. Fast food often gets a bad rap for being unhealthy, but not all options are created equal. Some meals can provide a decent balance of protein, carbohydrates and essential vitamins and minerals.
Primarily, opt for meals that are easy on your digestive system. Overly spicy or greasy foods can aggravate an already sensitive stomach. Instead, go for lightly seasoned, relatively bland options. Pay attention to your body's signals – for instance, if you're feeling nauseous, smaller, more frequent meals might be more suitable than large ones.
Hydration is vital when you're ill, and certain fast food options can contribute to your fluid intake. Soups, for instance, are a good source of hydration and can also soothe a sore throat.
Lastly, remember that bottom line – the best fast food when you're sick is the one that makes you feel better without worsening your symptoms or delaying your recovery.
Making Healthy Fast Food Choices When Unwell
Feeling under the weather doesn't mean you have to compromise on making healthy choices, even when opting for fast food. Here are some tips to guide you when selecting your meals:
Opt for Grilled Options: Whether it's chicken or fish, grilled options are typically leaner and contain fewer calories than their fried counterparts. Most fast-food joints offer a variety of grilled items on their menu.
Choose Whole Grains: If the option is available, choose whole grain bread for sandwiches and brown rice for meals. Whole grains are richer in fiber and nutrients and can help keep you satiated longer.
Limit Extra Toppings and Sauces: Additional toppings and sauces can be loaded with fat and sodium. When you're not feeling well, it might be best to keep your meal simple and easy to digest.
Add Fruits and Veggies: Many fast food chains offer side salads, fruits, or vegetable sticks. These can add necessary nutrients to your meal and help boost your immune system.
Stay Hydrated: Opt for water, herbal tea, or clear broths instead of sugary drinks. Keeping hydrated is crucial, especially when you're sick.
Listen to Your Body: Lastly, pay attention to what your body is telling you. If a certain food item doesn't appeal to you or has caused discomfort in the past, it's best to avoid it.
Remember, while fast food can be a convenient option when you're not feeling up to preparing a meal, it's important to make choices that will help your body recover.
Conclusion
When you're ill, the best fast food choices are those that are light, easily digestible, and nutrient-laden. Broth-based soups, grilled chicken, or even a plain baked potato can be optimal choices. Avoid fatty, fried, or spicy foods that could exacerbate your symptoms.
Always prioritize hydration and proper rest to aid recovery. Remember, fast food is a convenient solution but not always the healthiest choice. Consult a healthcare professional if symptoms persist or worsen.
fastfoodjustice.org